Plated structure in 24 karat gold
This spiral staircase has a double lateral structure made of polished stainless steel boxed stringers, covered in 24K gold with steps made of 3 feet wide and 2 inches thick Grey Marble. The steps are supported by polished stainless steel and are equipped with LED lighting both on the steps and inside the groove of the handrail carved into the structure's thickness.
The staircase has a single-piece design that allows for fastening only at the start and end points. Furthermore, a unique out-of-tank galvanic finishing process was used for the 24K gold finish, developed explicitly for this project.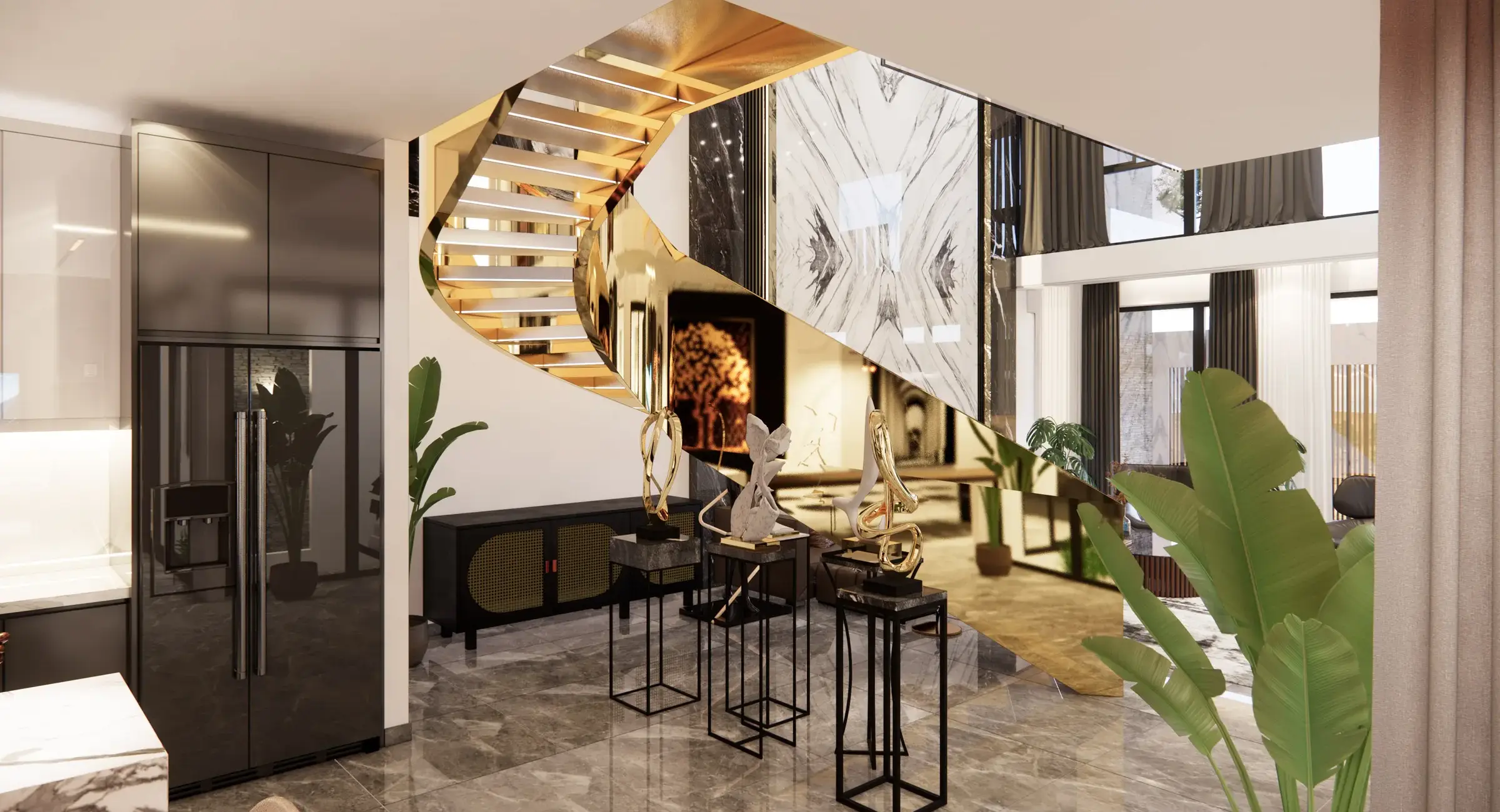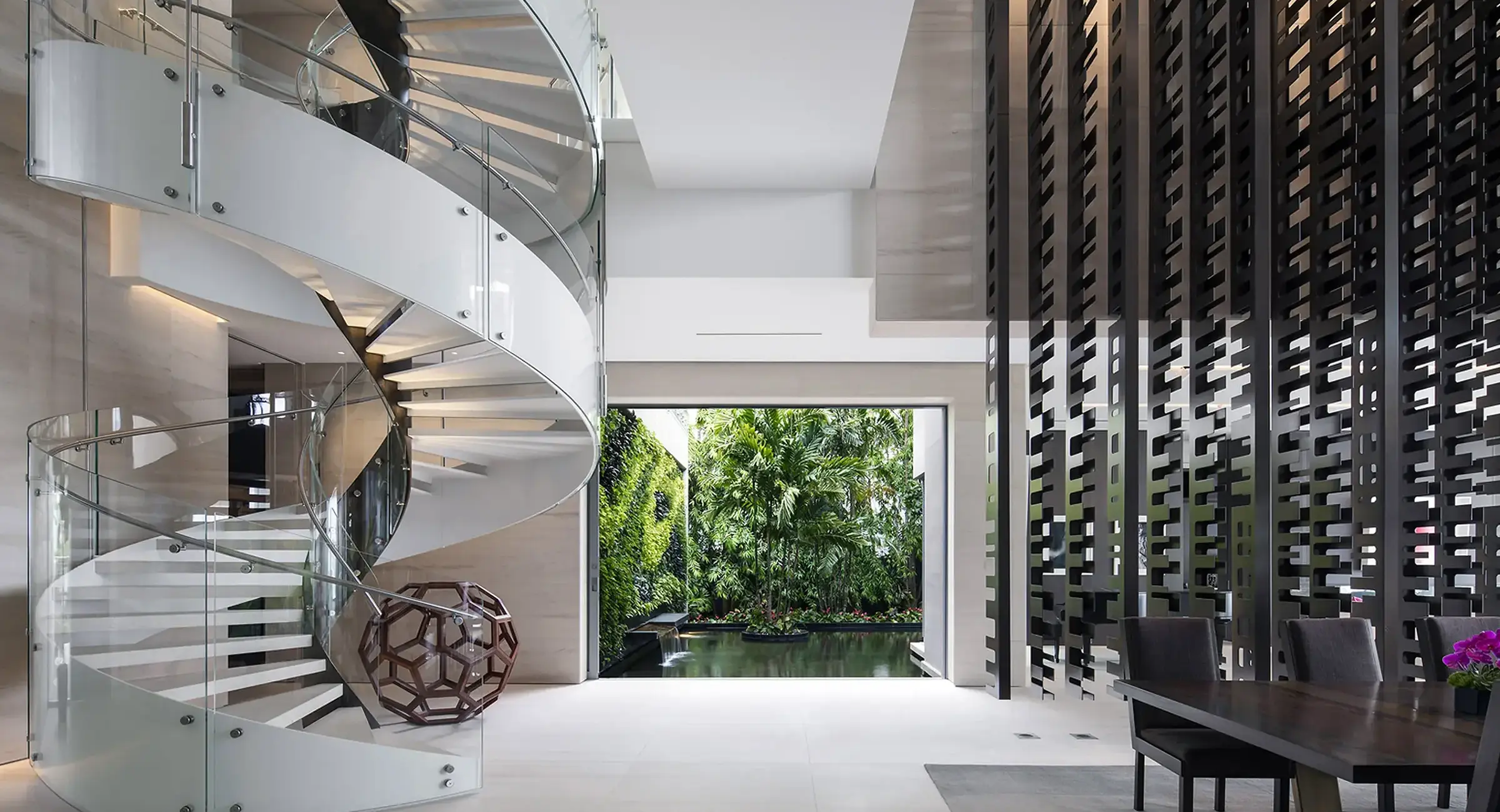 Grand Design
Curved Glass
Helix-shaped staircase with double side structure in painted steel and central bronze-cladding structure with marble steps, banister in curved ultra-clear structural low iron glass with handrail in brushed stainless steel.
Helicoidal structure
in black steel roll
10-foot-diameter spiral staircase with a double-sided structure.
The internal part of the staircase comprises a boxed system of 2 inches thickness in Hot Rolled Black steel, while the exterior design is coated with bronzed brass with a 4-inch thickness, and the handrail is recessed into the structure. The staircase has LED lighting on the steps and inside the recessed handrail.
The steps are made of white Oak wood with a thickness of 6 inches.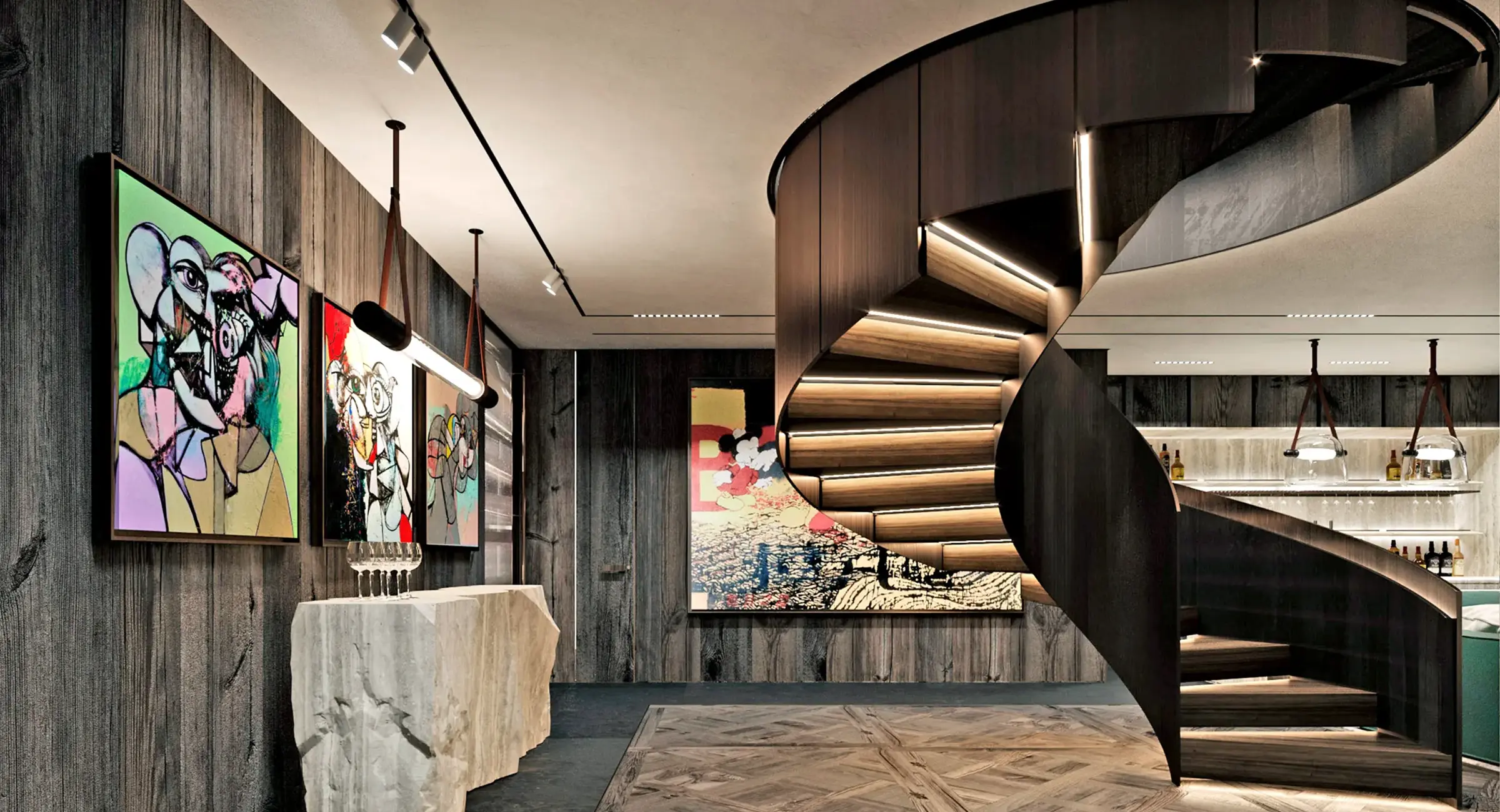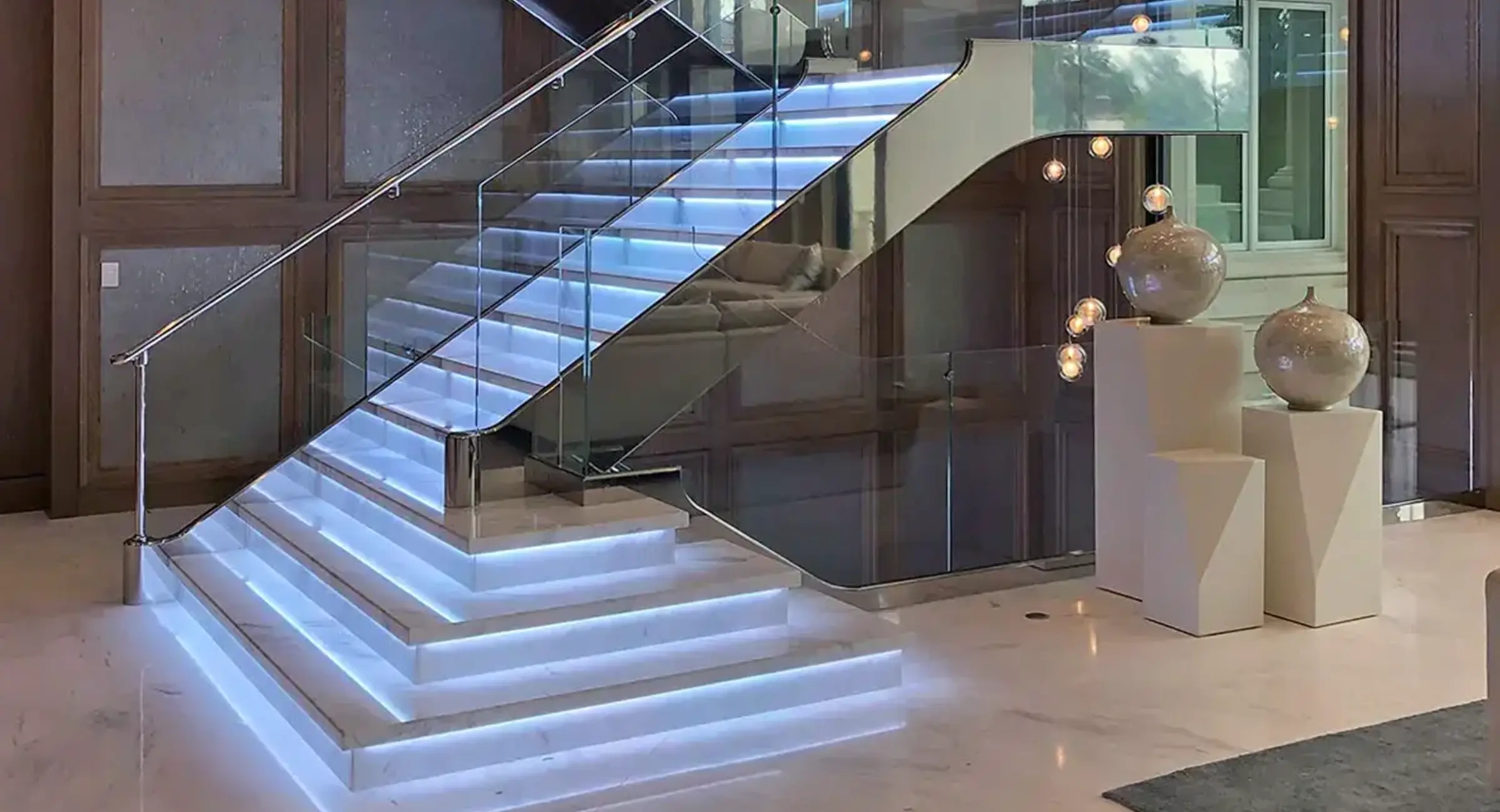 Stringers with double structure
Stringers with double structure on each side in polished AISI 304 stainless steel, 1 inch thick, with a shaped profile and structural glass banister sandwiched between the structures.
The steps and risers are made of "Calacatta Gold" marble, 5 feet wide and 2 inches thick, with color changing LED lighting.
Transperfect Stairs
Brushed-finish AISI 304 stainless steel structure featuring steps made of extra-clear tempered glass 7 feet wide and 2 inches thick. The top layer of the steps has an anti-slip coating and is attached to the structure with patented hooks recessed into the glass, without the need to drill holes in the glass to keep the top surface intact. The railing is also made of extra-clear tempered glass 1 ½ inches thick. Additionally, all the glass has been laminated with the anti-hurricane SGP plastic (SentryGlas by Dupont).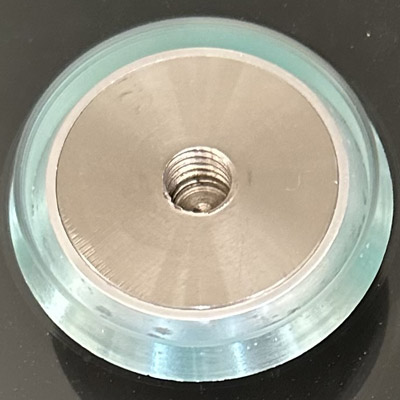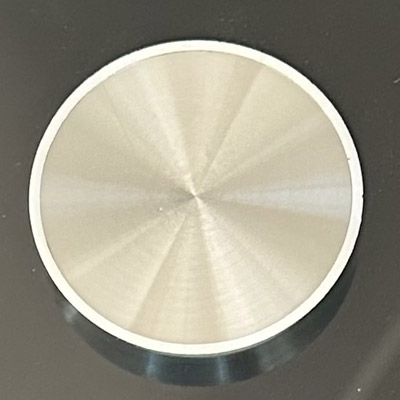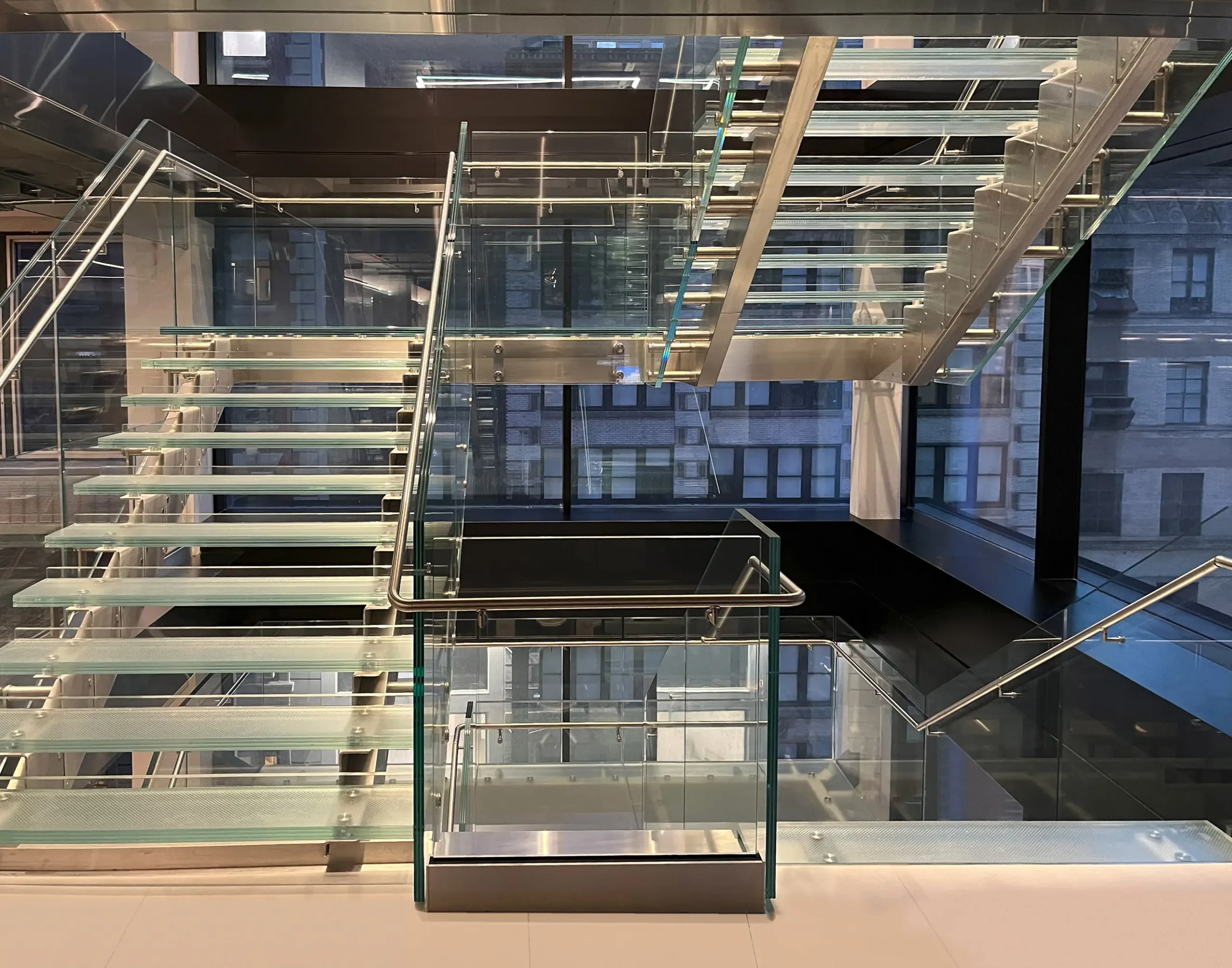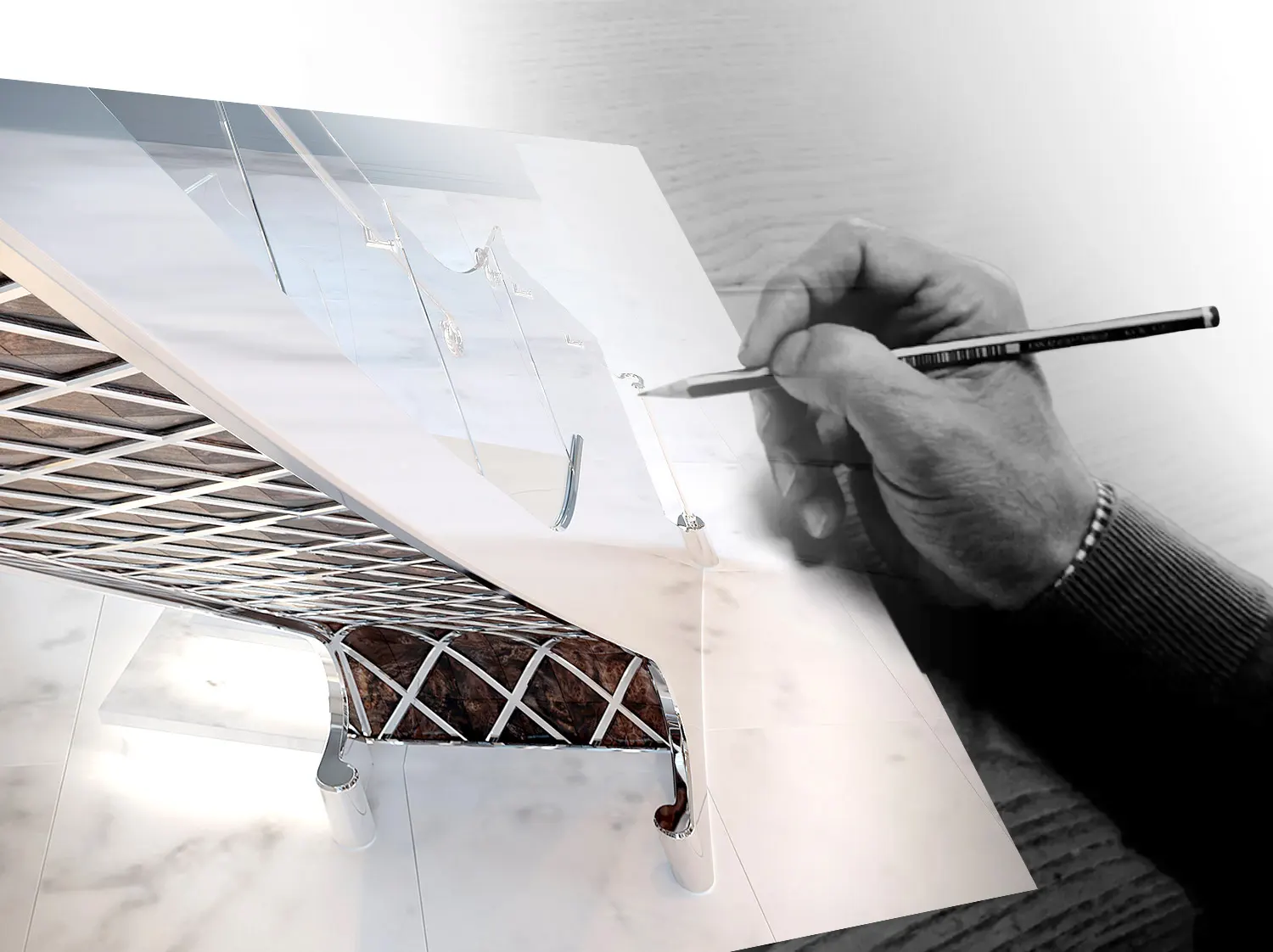 Italian Design
Forefront of Contemporary Living
The Marretti stairs are modern staircases that connect floors but also reality, ideas, dreams: they are a dialogue between spaces and use the language of technology and imagination. Marretti is renewed with each project. Today's challenge is to fly.
TOP DESIGNS
For 100 years Marretti is a leader in the design and manufacture of staircases